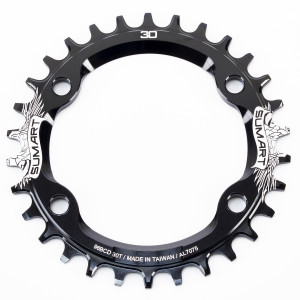 SUMART | RCR96-30T | Narrow/Wide Single Chainring – 96PCD
Lightweight solution for the single ring set-up!
SUMART | RCR96-30T designed with performance enhancing chain retention technology. Strong enough for DH Racers and Dirt Jumpers, yet light enough for XC/singlespeed. Single Rings are machined from 7075 aluminum and tested in some of the most punishing riding terrain.
FEATURE
+ The tooth configuration keeps the chain on the ring without the use of a chain guide.
+ 7075-T6 aluminum, aerospace grade strength
+ Quieter drivetrain and less drag CNC machined 7075-T6 aluminium provides the perfect blend of lightweight and strength.
+ Hard anodized finish makes them ultra durable and increases longevity.
+ For SHIMANO XT M8000
+ Compatible for 9, 10 and 11 speed.
MATERIAL
+ Chain Ring : AL7075-T6
+ Thickness : 5mm
CONTENT
+ RCR96-30T X 1 PC
SPECIFICATION
+ Size : 96 BCD
+ Color : Black